Varina "Winnie" Anne Davis
"The Daughter of the Confederacy"
b 06/27/1864 D 00/00/1898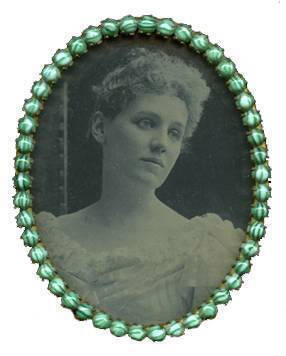 Varina Anne "Winnie" Davis was born on June 27, 1864, at the White House of the Confederacy in Richmond, Virginia.   Winnie's father Jefferson F. Davis was serving as the President of the Confederacy at that time.  Baby Winnie was not long a resident of the city.  She left Richmond in her mother Varina's arms on March 31, 1865, just prior to the Union Army invasion. 
Jefferson's dramatic capture soon followed, resulting in his imprisonment at Fort Monroe in Norfolk, Virginia.  Winnie was the only child allowed to visit Jefferson during this dark period.
When the former rebel leader was finally released in 1867, the family began a period of nomadic wandering overseas until Jefferson was finally offered a job in Memphis, Tennessee.  In 1877 at age thirteen, Winnie was sent away to a German boarding school where she was acutely homesick. 
The Davis's shy, youngest daughter finally returned to the States in the summer of 1882 as an elegant young woman.  Winnie seemed content to spend the majority of her time at Beauvoir, her parent's estate in Biloxi, Mississippi. 
However, on April 30, 1886, Winnie was reborn and christened the "Daughter of the Confederacy" by Georgia Governor and former Confederate General John B. Gordon.  After General Gordon's proclamation, Winnie's life was never her own again, and her attendance at Confederate Veteran's events became obligatory.
Winnie encountered the Northern suitor who would become the love of her life during the Christmas holidays of 1887 in Syracuse, New York.  Local socialites snubbed the young woman due to her Confederate connections.  However, Alfred "Fred" Wilkinson soon came to Winnie's rescue.  He was a tall, handsome Harvard graduate and considered a prime catch in his hometown. 
Ironically,

Fred also happened to be the grandson of famed abolitionist Samuel Joseph May.

Photo Courtesy The Onondaga Historical Association
A dramatic courtship followed, with Winnie keeping the romance a secret.  Fred finally arrived unannounced at Beauvoir, the Davis' family estate, in September of 1888 and asked for Winnie's hand. 
When the engagement was made public,

all hell broke loose. 
Confederate Veterans' groups hurled death threats at an unsuspecting Fred while former Confederate officers such as Jubal Early admonished Winnie's parents for allowing the match.
Despite such obstacles, Winnie and Fred's courtship continued and included a loosely chaperoned trip to Italy.  After months of agonized deliberations, the Daughter of the Confederacy finally called off her engagement in October of 1890.  Fred was heartbroken and claimed he would never give Winnie up. 
After she left the South for good in the mid-1890's, Winnie moved to New York city, where she and Varina wrote for magazines and for newspaper baron Joseph Pulitzer at The World to support themselves.  Winnie became the author of two novels, fulfilling a lifelong dream.  Winnie also continued to serve in her honorary role at Confederate Veterans events. 
In the late summer of 1898, Winnie attended a Confederate Veterans' Reunion event and ball in Atlanta at the urging of her mother.  She was drenched in a sudden downpour, and soon fell ill.  Upon her arrival in Narragansett Pier, Rhode Island, a few days later for a vacation, the young woman found herself in bed with a dangerous fever.  After a brief recovery, Winnie died on September 18th at the age of thirty-four of "malarial gastritis."  Her death has never been sufficiently explained.
An elaborate funeral with full military honors was held for the Daughter of the Confederacy at St. Paul's Episcopal Church in Richmond.  She was buried at Hollywood Cemetery in the Davis family plot overlooking the James River.  As Southern writer and poet Robert Penn Warren famously observed, the South that had adored Winnie with a consuming passion, ultimately rendered her
''the last casualty of the Lost Cause." 
Winnie Davis:  Daughter of the Lost Cause
Author Introduction
What is it about Varina Anne "Winnie" Davis, daughter of Confederate President Jefferson Davis and Varina Howell Davis, and appointed "Daughter of the Confederacy" that has had such a hold on me for the past 20-odd years?  Even in Richmond, Virginia, where Winnie and I were both born, she is a half-forgotten symbol of the Lost Cause known primarily for her scandalous romance with the Northern grandson of a famous abolitionist following the Civil War.
Winnie's 1897 portrait by Virginia artist John P. Walker has hung in various clubs and museums in Richmond for many years.  I remember seeing this image as a teenager and wondering about this beautiful lady:  who was she and why was her expression so melancholy?  In the painting, Winnie is dressed in a white lace gown that drapes beautifully over her slim figure.  She has dark hair and deep blue eyes with a diamond tiara in her hair and a red ribbon badge pinned to her bodice.  Her regal bearing suggested to me that she was nineteenth century royalty of some sort.  I wondered for a number of years about her in an offhand way, not bothering to do any research on her until college. 
By my senior year at Davidson College in 1991, I began to outgrow the confines of the academic cage.  Having taken all the required classes, had my share of failed romances, and exhausted the limited shopping options in downtown Davidson, North Carolina, I decided to devote myself entirely to my thesis on Winnie Davis. 
As I began to delve into Winnie's background through personal letters, diaries, newspaper accounts and short references to her in Southern history books, I became fascinated with her tragic story.  As part of my thesis work, I convinced my professors to send me to her family home Beauvoir in Mississippi.  I don't remember much about the academic conference I attended there, but I do remember the dresses.
Beauvoir had a collection of Winnie's dresses-elaborate nineteenth century gowns for both day and evening.  The docent leading the tour that day picked me out of the crowd and said "Now you could wear her clothes easily-you are just her exact same size!"  Of course, nothing would have pleased me more that day than to be able to try on all her clothes-just to see how they fit. 
In a sense, that is exactly what I have been doing the past twenty years.
 
Trying on Winnie's metaphorical clothes through researching her life, her motivations, and passions has made me realize why I am so drawn to her.  We are both Richmonders from similar social backgrounds.  We both grew up perhaps a bit over-protected by well-meaning parents.  We were both partially educated in Europe, both schooled in all-female environments.  We both have a deep-rooted relationship with Richmond.  Working on her life story was like seeing what my life could have been if I had been raised in the late nineteenth century South. 
Richmond itself is not so very different now than it was during Winnie's day.  It is a still a small village, with its provincial, gossipy side and its highly cultured sophisticated side.  It has an infinitely strong hold on those who are born here even if they later live far away.  The White House of the Confederacy where Winnie was born still stands on Clay Street.  Gracious homes from the Civil War and Reconstruction periods still line the streets.  The ghosts of the Confederacy, including those of the Davis family, still flit through Hollywood Cemetery: 
If you visit the Davis family graves at Hollywood, you will find the entire clan there.  Jefferson and Varina, the patriarch and matriarch; oldest daughter Margaret "Maggie" Hayes, her husband Addison and some of their children; and the four Davis sons:  Samuel, little Joe, Billy, and Jeff Jr.  Moss covers all tombs, and you can barely make out the names of the younger Davis boys with their tiny crumbling grave markers. 
Winnie's grave, however, stands out.  Well-tended with blooming red geraniums at its base, her tomb is guarded by a sculpture of a beautiful granite angel, sculpted by Hungarian artist C.J. Zolnay, with an appropriately melancholy expression.  She clearly represents the public's image of the former Daughter of the Confederacy.  The angel is tendering a wreath- perhaps attempting to heal the breach between North and South caused by the Civil War.  In my mind though, the angel-Winnie herself-is trying to reconcile her private life with her public image.  The contrast between these two as illustrated by her life story, is striking. 
Most telling of all is the dedication marker next to the grave.  Erected in 1899 three years after Winnie's death, one would expect it would have been placed there by Richmonders. 
Instead, the marker on the grave says United Daughters of the Confederacy:  New York Chapter.  Only in death was Winnie able to help reconcile the breach between North and South: a wound that festered and refused to heal during her short lifetime. 
Winnie Davis: Daughter of the Lost Cause is now available on Amazon, Barnes & Noble and Potomac!

Gold Medal IPPY Award
Winner 2015

Colonial Dames of America Book
Award Winner 2015