Varina "Winnie" Anne Davis
"The Daughter of the Confederacy"
b 06/27/1864 D 00/00/1898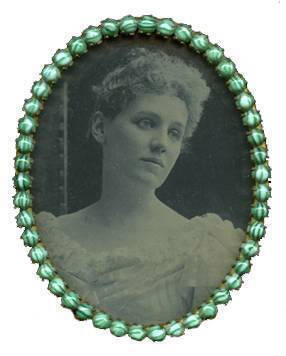 Varina Anne "Winnie" Davis was born on June 27, 1864, at the White House of the Confederacy in Richmond, Virginia.   Winnie's father Jefferson F. Davis was serving as the President of the Confederacy at that time.  Baby Winnie was not long a resident of the city.  She left Richmond in her mother Varina's arms on March 31, 1865, just prior to the Union Army invasion. 
Jefferson's dramatic capture soon followed, resulting in his imprisonment at Fort Monroe in Norfolk, Virginia.  Winnie was the only child allowed to visit Jefferson during this dark period.
When the former rebel leader was finally released in 1867, the family began a period of nomadic wandering overseas until Jefferson was finally offered a job in Memphis, Tennessee.  In 1877 at age thirteen, Winnie was sent away to a German boarding school where she was acutely homesick. 
The Davis's shy, youngest daughter finally returned to the States in the summer of 1882 as an elegant young woman.  Winnie seemed content to spend the majority of her time at Beauvoir, her parent's estate in Biloxi, Mississippi. 
However, on April 30, 1886, Winnie was reborn and christened the "Daughter of the Confederacy" by Georgia Governor and former Confederate General John B. Gordon.  After General Gordon's proclamation, Winnie's life was never her own again, and her attendance at Confederate Veteran's events became obligatory.
Winnie encountered the Northern suitor who would become the love of her life during the Christmas holidays of 1887 in Syracuse, New York.  Local socialites snubbed the young woman due to her Confederate connections.  However, Alfred "Fred" Wilkinson soon came to Winnie's rescue.  He was a tall, handsome Harvard graduate and considered a prime catch in his hometown. 
Ironically,

Fred also happened to be the grandson of famed abolitionist Samuel Joseph May.

Photo Courtesy The Onondaga Historical Association
A dramatic courtship followed, with Winnie keeping the romance a secret.  Fred finally arrived unannounced at Beauvoir, the Davis' family estate, in September of 1888 and asked for Winnie's hand. 
When the engagement was made public,

all hell broke loose. 
Confederate Veterans' groups hurled death threats at an unsuspecting Fred while former Confederate officers such as Jubal Early admonished Winnie's parents for allowing the match.
Despite such obstacles, Winnie and Fred's courtship continued and included a loosely chaperoned trip to Italy.  After months of agonized deliberations, the Daughter of the Confederacy finally called off her engagement in October of 1890.  Fred was heartbroken and claimed he would never give Winnie up. 
After she left the South for good in the mid-1890's, Winnie moved to New York city, where she and Varina wrote for magazines and for newspaper baron Joseph Pulitzer at The World to support themselves.  Winnie became the author of two novels, fulfilling a lifelong dream.  Winnie also continued to serve in her honorary role at Confederate Veterans events. 
In the late summer of 1898