The League of Wives: A True Story of Survival and Rescue from the Vietnam Homefront
(Coming in 2019 from St, Martin's Press)
On February 12, 1973, 115 men who just six years earlier had been high flying Navy and Air Force, Marine and Army pilots, shuffled, limped or were carried off a huge government C-141 military transport plane at Clark Air Base in the Philippines. These troops owed their miserable condition to years of brutal torture with ropes, leg irons and whips. The men had spent months and sometime years in shackled solitary confinement, close to starvation in rat-infested, mosquito-laden prisons. They were the first wave of American servicemen who had been captured during the Vietnam War who were finally leaving their cells in the infamous Hanoi Hilton and its associated jails –for home.
These first POWs to set foot on the U.S. military base in the Philippines had spent the longest amount of time in captivity: between six and eight years. Captain Jeremiah Denton, one of the most senior Naval officers to be held prisoner, was the first man to step off the plane at Clark Air Force Base that February day.
With tears in his eyes, Denton gave an impromptu address on behalf of all the returning POWs: "We are honored to have had the opportunity to serve our country under difficult circumstances. We are profoundly grateful to our Commander-in-Chief and to our Nation for this day." He paused before adding an emotional "God bless America!" to his remarks.
Only months later would he realize that his real rescuer was his wife, Jane. Jane Denton, along with Sybil Stockdale, Phyllis Galanti, Helene Knapp and many other wives of Vietnam Prisoners of War and those Missing in Action, had become the POWs most fervent advocates, going to extraordinary lengths to facilitate their husbands' freedom. Without their relentless lobbying of the president, his National Security Advisor, and Congress, and without the wives' savvy media campaign, the men might have been left to languish in prison long after the last helicopter lifted off the U.S. Embassy in April 1975, officially bringing an end to the Vietnam War.
Just a few months later, on May 24, 1973, the POWs would find themselves in a setting that earlier would have seemed unimaginable – as guests of President Richard Nixon and First Lady Pat Nixon at the most lavish dinner in White House history. Under awnings of gold and red striped tents set up on the South Lawn the POW's were honored at a party that also included their wives, girlfriends, and family members. The women wore long gowns of chiffon and embroidered damask with elaborate hairstyles and long-lashed doe-eyed makeup.
Though nattily turned out that evening in their dress uniforms, many of the POWs were a shocking sight: some wore eye patches, and casts for their broken arms and legs. Naval Commander and future U.S. Senator and Republican Presidential nominee John McCain hobbled into the reception on crutches. He would never again be able to comb his own hair, or to raise his arms above his head due to the vicious rope torture and beatings he received while imprisoned in the infamous "Hanoi Hilton."
At the White House gathering these men sipped champagne; at the Hanoi Hilton they subsisted on watery soup laced with feces. The White House menu that evening was a POW food fantasy come true. The men finally had the "All American" meal many had dreamed of while in prison: sirloin steak, strawberry mousse and fingerling potatoes. Popular performers and movie stars Bob Hope, John Wayne and Sammy Davis, Jr. entertained the heroes. Irving Berlin sang "God Bless America" with Pat and Richard Nixon. The First Couple would soon be engulfed by the final chapter of the Watergate scandal, but tonight was a triumph that even that shadow could not dim.
Towards the end of the evening, the president lifted his glass for an official toast. He did not salute the prisoners of war; the White House official protocol, as the president pointed out, was that toasts should be made to ladies. As such, his gesture was the president's elegant and emotional tribute to the POW wives, mothers and significant others. Speaking about them, Nixon stated:
"They were and are the bravest and most magnificent women I have ever met in my life."
Who were these women and how did they become these men's saviors? Their story is one few have ever heard. Their inspirational fight to free these men is the last great untold story of the Vietnam War era.
The League of Wives: A True Story of Survival and Rescue from the Vietnam Homefront tells the POW and MIA wives' story by spotlighting four courageous women: Sybil Stockdale, Jane Denton. Phyllis Galanti and Helene Knapp. Their husbands, all American Navy and Air Force pilots, were shot down during the war. Three of the four men would become POW "guests" at the "Hanoi Hilton." The fourth pilot, Helene's husband Colonel Herman Knapp, would never be heard from again – a status known in the military as "missing in action" or MIA.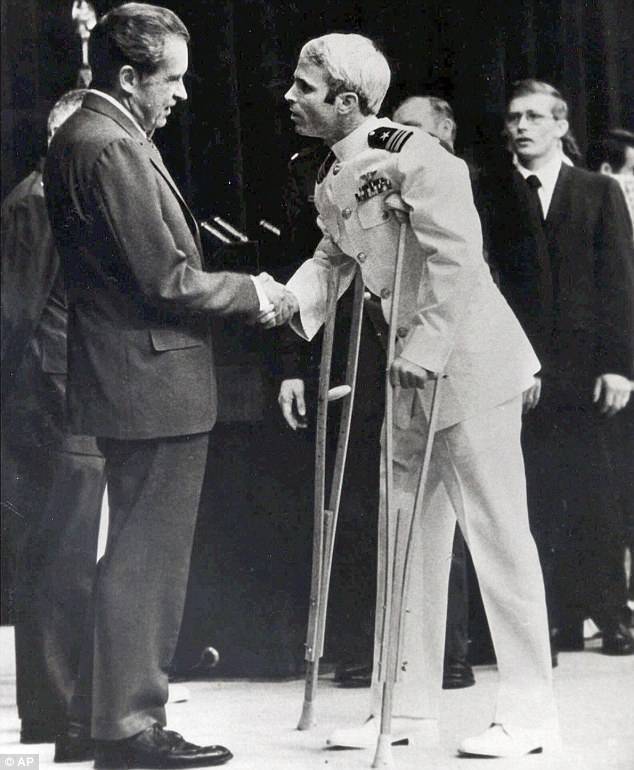 Jane Denton: Jane was an elegant, Southern belle with a strong Catholic faith. She became a well-known East Coast organizer for the League after her husband's shoot down on July 18, 1965. Of Jane's POW husband, one biographer would later note: No POW would prove tougher or more irritating to the Vietnamese than Jerry Denton." Jane was a fervent American patriot with deep conservative roots. She also had seven boisterous children at home. After years of waiting for her husband's return, she would seek out anti-war activist Tom Hayden and ask him to deliver information to the POWs in Vietnam. Many East Coast League Wives viewed Jane as the "glue" that held the women together when the going got tough.
While Jane suffered in silence at home in Virginia Beach, her husband's USNA classmate's wife, Sybil Stockdale enjoyed a Japanese holiday with her husband, James Bond Stockdale. This respite was just a short reprieve before Jim himself was shot down on September 9, 1965, and joined his classmate Jerry at Hoa Loa Prison in Hanoi. Unlike soft-spoken, more conservative Jane, Sybil was quick to jump into the fray when she realized that the U.S. government's "Keep Quiet" policy towards POWs was the wrong call. As the highest-ranking Navy POWs wife, Sybil was automatically in charge of the West Coast Navy POW and MIA wives according to military protocol. She became the forceful organizer of the San Diego POW and MIA Women's League, a group which would evolve from a local grassroots organization into the National League of Families of Prisoners of War and Missing in Action in Southeast Asia.
Jim and Sybil were equal partners in their marriage, each with an implicit trust in the other and their abilities. Jim would disfigure himself while in Vietnamese prison to block his captors from using him in Communist propaganda films. Sybil would ultimately become the POW and MIA wives' "Commander-in-Chief" on both the East and the West coasts.
One of the East Coast POW wives Sybil began to communicate with in the late 1960s was Phyllis Galanti, a striking blonde who was the smart but shy young wife of Navy Lieutenant Commander Paul Galanti. Phyllis's husband was shot down June 17, 1966, joining Jerry and Jim at Hoa Loa Prison. Like his superior officers, thirty-two year old Paul regularly defied his captors. The subversive POW would later be pictured on the cover of Life magazine giving the finger to his North Vietnamese captors. (Life later airbrushed this gesture out of the photo.) Phyllis by her own account, "just wanted to be a housewife." Terrified when faced with her husband's shoot down and capture, Phyllis began a slow but steady transformation from "shrinking violet" to fiery activist. Through Sybil and Jane, she soon heard about the work both East and West coast wives were doing for the POW MIA cause and began driving to Virginia Beach to meetings.
As a young woman, Phyllis was so terrified of public speaking that she was unable to use her French college degree to teach in a classroom. Ironically, her fluency in French helped her save her husband's life when she lobbied Vietnamese diplomats for American POW's release in both Sweden and Paris. She eventually gained the nickname "Fearless Phyllis" and gave hundreds of presentations to elected officials and coordinating a letter-writing campaign to raise awareness of POW MIA issues. She would eventually become Board Chair of the National League in 1971.
Through this role, Phyllis would meet the League's National Coordinator, Helene Knapp, whose husband Air Force Colonel "Herm" Knapp was MIA. Herm was shot down on April 4, 1967, just after he taped and mailed a loving message to his family at home saying how much he missed them all. Vivacious, fun-loving Helene relocated to Washington D.C. from Colorado, bringing her two young children with her, to work for the National League. Her razor sharp memory for details, facts and figures was instrumental in the League's work. She raised tens of thousands of dollars for the League as well.
These four women: Sybil, Jane, Phyllis and Helene, joined forces to found the National League of Families of American Prisoners and Missing in Southeast Asia. Sybil started the movement over lunch at her dining room table in Coronado, California, in October of 1966. Jane and Phyllis, based out of Virginia, joined the group the next year when Sybil began formally contacting them in an attempt to bring together POW and MIA wives from all across the country. Helene, living in Colorado Springs and wanting to do something active to help her missing husband, brought POW and MIA Wives from the interior west into the movement in 1969.
Under President Lyndon B. Johnson, the military ordered the ladies and their families to adhere to a "Keep Quiet" policy regarding POW and MIAs in Vietnam. At the start of the Vietnam conflict, the wives were informed that if they talked about their husband's capture, it might negatively affect the men's treatment in prison and hurt their chances of returning home.
When Nixon was elected in 1968, the administration's attitude completely changed. After a spring 1968 meeting with angry POW and MIA wives and their families at Miramar Naval Air Base in San Diego, Assistant Secretary of Defense Richard Capen realized that quiet, behind-the-scenes diplomacy on behalf of the POWs and MIAs was failing them. He and his boss, Secretary of Defense Melvin Laird urged the new Nixon administration to drop the "Keep Quiet" ban and allow the POW MIA families to speak out with the American government's support.
After some initial reluctance due to ongoing diplomatic efforts with the North Vietnamese, the new administration came to understand the public relations value these women and their families could provide. Nixon and Dr. Henry Kissinger, his National Security Advisor saw that the POW MIA issue was a unifying cause in a politically divided country. Nixon, himself was a military veteran, and he sympathized with the POW's plight. Kissinger, who had escaped Nazi Germany and had served his new country at the end of the Second World War as an American soldier and Nazi-hunter, also became supportive.
Soon, other powerful allies like Kansas Senator Robert Dole, California Governor Ronald Reagan, and millionaire businessman Ross Perot devoted their time and resources into helping these women and their fight. The wives found that they had the ability to dramatically change public awareness of the POW MIA situation using newspapers, magazines, public talks, and most importantly, employing the new medium of television to transmit their May Day distress call for help.
These activist women shrewdly used the media attention garnered by the League to turn world opinion against the North Vietnamese, whose torture and inhumane treatment of the American POWs was soon exposed in coded letters home to the Wives. In May of 1966, American POW Jeremiah Denton was the first to confirm for U.S. Naval Intelligence the horrors Americans were suffering in the Vietnamese prison camps when he blinked "T-O-R-T-U-R-E" in Morse code on camera.
The second group to confirm the mistreatment of prisoners was the North Vietnamese themselves. By filming and distributing footage of the "Hanoi March" of prisoners in July of 1966, the Communists created a homemade public relations disaster. Ironically, Jerry Denton, one of the prisoners forced to go on the march, was the one to warn his captors this move would backfire. He was right: the North Vietnamese attempt to show cowering American soldiers meekly parading through the streets of Hanoi in front of an orderly crowd almost immediately disintegrated into a chaotic nightmare. The "Hanoi March" Americans saw on television instead was "footage of manacled prisoners comporting themselves with admirable dignity and courage against a unruly mob."
Even such shocking footage of the obvious mistreatment of the POWs was not enough to save them. There were no Seal Teams coming to rescue American POWs in Vietnam. The men's saviors were not snipers wearing flak jackets or toting machine guns. Their rescuers instead wore Mikimoto pearls bought on military layovers to Japan, knock-off Oleg Cassini suits and matching pillbox hats. The wives' weapons were organization, tenacity and their willingness to ditch the very military protocols they were trained to adhere to. Ultimately, these Vietnam War wives quit waiting for their husbands to be rescued by the American government. Instead, they did the job themselves. The wives' story was a fairytale in reverse.
Most of these POW and MIA wives had spent their entire married lives following traditional domestic codes. They were supportive, patriotic military spouses who moved from base to base, city to city for their husband's careers. This constant relocation trained them to be superior networkers: they were experts at finding fresh resources in each new town. They raised children, organized volunteer groups at their children's schools, headed up women's groups at their churches and fundraised through bake sales. These experiences gave the women the resources they would need for a fight they never knew was coming.
The women's under-valued "domestic" skills would become weapons for waging a war that would undermine the enemy and provide their husbands with the hope that their country had not forgotten them.
These military wives used their accumulated organizational experiences to wage a successful public relations assault-using television, newspapers, magazine articles, and letter-writing campaigns-as weapons against the North Vietnamese. They managed to turn world opinion against them, alerting the media to the atrocities they were committing in their prisoner of war camps.
They also formed a powerful humanitarian lobby at home whose support became crucial to the Nixon administration. By pooling resources and channeling shared talents, these women were soon admitted into and supported by those in the inner circles of the American government. Ultimately, these women spoke together as one voice on behalf of those who were denied a voice: their husbands.
These ladies would never have called themselves "feminists." In fact, their military communities shunned women like Gloria Steinem and Germaine Greer, associating their women's rights stance with the anti-war movement. Despite this, many of the POW and MIA wives were reading Betty Friedan's groundbreaking book, The Feminine Mystique. They were quietly observing the words and actions of these feminist leaders as well as the work of civil rights icons like Dr. Martin Luther King as they plotted their own strategy. During the Vietnam War era, these conservative wives swimming in the subversive soup of home front ferment became human rights leaders by necessity.
Like earlier American women during the Revolutionary and Civil Wars who took over and ran the family farms, pioneer women on the Oregon Trail, and the women in World War II who worked in the factories, this reluctant sorority became a League of Wives that rose to impossible challenges and prevailed.
When their POW husbands returned, many of the men scarcely recognized the wives they left behind. As Naval commander and Vietnam POW Paul Galanti explained of his wife: "Phyllis was pretty shy when I left. I came back to a real tiger."