Press
The League of Wives
INTERVIEW - Local author's Vietnam War book 'League of Wives' nabs attention from Hollywood
Richmond Native's Book Snatched Up By Reese Witherspoon For Film
Reese Witherspoon, Fox 2000 Tackling Vietnam Drama 'League of Wives'
Reese Witherspoon Is Producing a Movie About Vietnam Wives, Which Is So Her
More Recent Press
League of Wives was included in Publishers Weekly's Spring 2019 Announcements in History!
Voices of Vietnam: Women of War Part 2 :: October 2018
KPR Presents: Sunday, September 10th, 2017 :: Remembering the Vietnam War
Right-click HERE and "Save link as..." to Download audio.
KU Giving Magazine, Fall 2017 :: Voices of Freedom
They too are not forgotten: POW/MIA wives :: Washington Times :: May 2017
Book Deals: Week of May 29, 2017 :: Publishers Weekly
Michael Flamini at St. Martin's Press took North American rights, at auction, to Heath Hardage Lee's The League of Wives: A True Story of Survival and Rescue from the Vietnam Homefront. Lee, who was represented by Katherine Flynn at Kneerim & Williams, is a historian who has spent much of her career working for museums. This book, Flynn said, "follows four Vietnam-era women through their incredible transformation from conservative, rule-bound, stay-in-the-background military wives to covert spies, national lobbyists, and international human rights figures—all to save the lives of their POW husbands and those missing in action."
Mike Slater Show: KFMB San Diego Jan. 27. 2017
Click HERE to listen.
Press Kit
Press Releases
Exhibition will share stories of Vietnam POW, MIA advocates
Writer's Voice :: October 2016
Journal of Southern History Book Review of Winnie :: November, 2015
Gold Medal IPPY Award Winner 2015 :: May, 2015
Colonial Dames of America Annual Book Award :: April, 2015
The Daughter of the Confederacy: Winnie Davis, Oscar Wilde and 19th century celebrity :: February, 2015
Winnie Davis 2/10 video - University of Mary Washington :: February, 2015
Civil War News - Book Review :: January, 2015
A Daughter of the South's Old New York by Heath Hardage Lee :: December, 2014
The Free Lance-Star Article :: November, 2014
Winnie Davis: A Civil War "Romeo and Juliet" story :: November, 2014
Style Weekly Article :: October 21, 2014
Winnie Davis book review from the Virginia Magazine of History and Biography:: September, 2014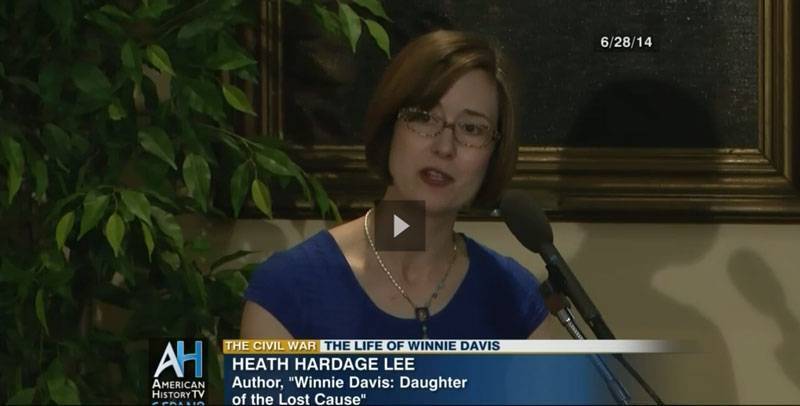 Travel back to the 1800s Confederate South :: August 5, 2014 :: Video
NBC 12 Interview :: July 30, 2014 :: Video
"Jojo Moyes and Heath Hardage Lee - #304 (7/21/14)" by Write The Book - Podcast
Gettysburg Sacred Trust :: July 4, 2014 :: Video
Sacred Trust Talks & Book Signings Event, July 4-6, 2014 :: THE GETTYSBURG FOUNDATION :: May 16, 2014
-"... speakers include Allen Carl Guelzo, Stephen Fox, Heath Hardage Lee, Richard M. McMurry and Wayne E. Motts, just to name a few."
"Winnie Davis: Daughter of the Lost Cause by Heath Hardage Lee" by Virginia Historical Society - Video
Winnie Davis, The Lost Cause Book :: KCCI :: June 2, 2014 - Video
Winnie Davis, The Lost Cause :: The Midwest Book Review :: May, 2014 - PDF
Heath Lee on Who Radio :: May 12, 2014 - Podcast
Culture Buzz with Heath Lee :: May 12, 2014 - Podcast
Southern Tales :: Southern Seasons Magazine, pg. 38
Winnie Davis's Love Affair :: History.net
Bill and Joel, Daughter of the Lost Cause-Heath Hardage Lee :: April 4th, 2014 - Podcast
Winnie Davis, The Lost Cause :: Booklist Review :: March, 2014 - PDF